In going through receipts to submit for work travel last week, I realized I had one or two for the exact same order:  iced coffee and a banana.
Maybe more than one or two.
I'm sensing a theme.
Turns out this traveler with diabetes defaults on the regular to the same snack.
Which is fine because repeat snacks have predictable effects (one super yellow banana seems to hit me as the 10 carbs, which means that it's a unit of insulin to cover it, and the coffee doesn't seem to require any insulin these days) and I like predictable travel snacks because my blood sugar response to the stress of airplane travel can be decidedly unpredictable so bananas are awesome and AND HEY WAIT OMG I CAN WIN A BANANA COSTUME?!!!!!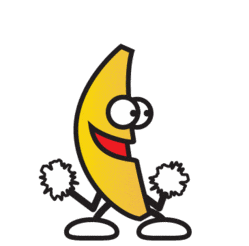 Do you find yourself eating the same sorts of things in order to attempt to predict blood sugar response?  Also, do you like dancing bananas?  I DO.