Dave deBronkart and I met several years ago through patient advocacy and online connection points, and I've followed his health story as he has simultaneously followed mine.  Dave comes from the perspective of a cancer survivor who almost died and has turned his "free replay in life" into a crusade to open healthcare's minds to the idea of partnering with patients.  So when he messaged me to tell me that his lab results for A1C came back a little elevated, I watched our health stories smash up for the first time.  Nothing like the experience of trying to change an A1C to bring people together.

Today, Dave is guest posting about his experiences toeing line of type 2 diabetes, and his take on patient guidance in the diabetes space.  (And for more from Dave, you can follow his very lively Twitter account or blog.  Or just Google him and see all the fun that pops up.)

*   *   *
Dealing with an "increased risk" of T2D
by ePatient Dave
A year ago this week I got some blood work done and it came back with this great big numeric fart in my face: the number 5.8, followed by "Increased risk for diabetes."
WHAT?? I. Am. Not. A. Diabetes. Person. Those people are Kerri, or Amy, or Dana, or Manny, or Scott, or Eric, or Dominick. It's all those people I like and respect and enjoy knowing, but it's not me. I mean, they're not me. I'm not them – they're a special class. What?  I mean, I'm a kidney cancer guy, not an insulin problem guy. I don't even know what that is, really. And I certainly don't know how to do it.
In hindsight it feels like it was easier when I was diagnosed in 2007 as almost dead with kidney cancer. And that episode was over in less than a year. Me with a permanent thing? (I know I'm sounding like an uninformed idiot here. That's what it's like when you're in the denial phase.)
What to do? Back then I got it in gear, doing what I could despite bad odds, and I was one of the lucky ones, aided by a great online patient community, which my oncologist said (in the BMJ!) he thinks helped save my life.
So, what to do this time? My PCP told me about a diabetes prevention program run by the YMCA that reduces by 58% the odds of ever developing T2D, if you lose x% of your weight and get 150 minutes of activity every week. I'd have to pay for it – a few hundred bucks – but it seems worth it.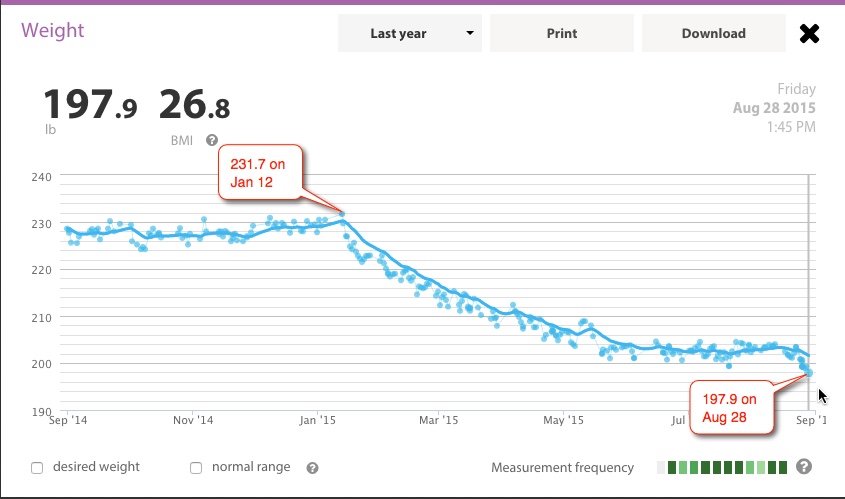 And boy has it been effective for me – check the graph from our wifi bathroom scale. (My results were not typical!) I lost 30 pounds in four months (January to May), dropped a few more to 197 in August… I'm back up over 200 now but I'm also a gotta be active guy … first time in my life I've felt I have to get outside and move around.
It's really a lifestyle program – they teach what I'd call food awareness, but it's really not a diet. They have you count fat grams, with a book or an app or whatever, but that's no diet. Then later they get into some more detail. But it's not complicated. And they have you get active – no particular exercise regimen, no in-your-face smiling Sweat Coach.
You know what, though? Effing stupid insurance won't pay for it.  If the insurance industry wanted to reduce medical spending they'd obviously spend a few hundred on prevention, so I conclude that they're either stupid or corrupt. (I know I don't usually talk this way but I honestly can't figure out any either explanation. Can you?)
Plus, the effing stupid program isn't available to people who aren't yet officially pre-diabetes! It's a good program, and my wife wants to do it too, but they won't let her in because she's not almost in trouble! What the !@#@! are these people thinking, not even letting someone buy their way into this course?
And you know what else?  When I measured my A1c again in September, it was up … it was worse. 5.9.
So now I'm in the middle of trying to educate myself about that.  Do you have any idea how hard it is to find out what to do about that??
Well, I imagine you do know. I'm here to say, for sure, that although T2D is different from T1D, it's clear to me that the system (whatever that is) sure doesn't make it easy for us to do the right thing.
I do know this: digital tools made (and continue to make) my own work on this a lot more practical … I mean, without important information and without feedback tools, how is anyone supposed to do a good job? As I always say in my speeches – "We perform better when we're informed better."
Here's to a radical acceleration of the tools we need – driven by what patients say they – we – need!
And I'm not even T2D yet – I'm just frickin annoyed at how I can't even get clear instructions on what I should be doing about it! I believe health goals should be patient-driven, and the C word ("compliance") should be thought of as achievement. So why can't I get good guidance on that??
*   *   *
Health goals should be patient goals, and there needs to be clear guidance on how to achieve them.  Thanks for lending your voice here today, Dave.