Do you know what bliss balls are?  I had never heard of them before.  There's a coffee shop near the beach out here that sells these bliss ball things.  They look like desserty meatballs and are kept in a glass jar near the cash register.  If you're sleep deprived, they look like pets held captive by the bakery ladies.
Chris bought one on a whim, assuming it would taste like garbage and we'd laugh about eating balls, but instead we thought it was delicious and felt ashamed at our immaturity.  To reclaim adulthood, we decided to attempt making our own bliss balls at home.
The sign at the coffee shop claims the ingredients are oats, peanut butter, honey, pepitas, coconut, and cinnamon.  The girls who worked at the coffee shop had no idea how much of each ingredient to use (Of course I asked; I'm baby-wearing and existing without sleep … no shame in going full-Mom and asking the college kids how to make bliss balls, right?), so I had to wing it based on the ingredient list alone.
I'm not a good cook, but I am good at baking, so I decided to give these bliss ball things a try.  The only missing element was that I didn't have a recipe to follow.  Instead, I combed the web for different recipes and mushed them together, eventually following this one mostly, only tweaking it to fit the ingredients on the coffee shop sign.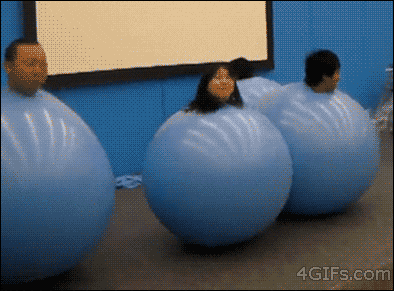 Ingredients:
1/4 cup honey
1 3/4 cup peanut butter (the oiler, the better)
3/4 cup shredded coconut
3/4 cup pepitas
cinnamon (to taste)
1/2 teaspoon vanilla extract
Directions:
Put all of these items, except the pepitas (have you Googled that word to find out what the hell pepitas are yet?  I'll wait …), into a bowl.  Stir everything together.  The mixture will resemble cookie dough.  Or meatloaf.  Cookie meatloaf.  (Mistyped that as "meatdough" initially.  Gross.  Going with it.)
Take the meatdough mixture and taste it.  Does it taste kind of like a snickerdoodle cookie with the texture of an almost-granola bar?  (My descriptions are not good when it comes to bliss balls.  On the whole, I think they look like meatballs or truck nuts, but they taste so nice and they are so mellow on my blood sugars that an embarrassing appearance becomes a non-issue.)
If the mixture tastes right to you, add the pepitas.
Shape the meatdough into round balls about the size of a golf ball and place them on a cookie sheet.  We put ours into the freezer for 20 minutes, then moved them to a tupperware dish and layered them in there, separated by sheets of parchment paper.
After about two hours, the meatdough will have "set" and the bliss balls will be all blissful.  Eat them with your face and forgive them for what they look like.
(Note:  I do not have an artsy-bloggy photo of the bliss balls, as they do not photograph well.  Use your imagination.  Or look at this Pinterest board for hints on how other people have done this sort of thing will more success.)